zipertatou

Biography - zipertatou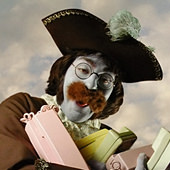 zipertatou works and lives in Montréal. He holds a BFA in Studio Arts from the Université de Laval (1998) and a Masters in visual and media arts from the Université du Québec à Montréal (2003). He also studied electroacoustics at the Conservatoire de Musique du Québec (1999).
zipertatou has presented his works in solo shows since 2000, notably at Galerie Clark (Montreal, 2003), at Galerie B-312 (Montréal, 2010), at Galerie Jean-François Meyer (France, 2011) and at Galerie Joyce Yahouda (Montréal, 2003, 2008, 2010 and 2012). His artworks have been exhibited as well in many group shows, such as at the Fonderie Darling (Montréal, 2003), Dare-Dare (Montréal, 2005), at Maison de la Culture Frontenac (Montréal, 2012) and in 2014, at Dazibao (Montréal). In 2010, he participated in the Tennoji's Isshinji Temple's Ningyo Festival, in Osaka (Japan). zipertatou conducts his exploration on the tensions, bonds, links and limits between childhood and the adult world through diverse media, including video and performance.
zipertatou is represented by Joyce Yahouda Gallery.