Nathalie Rodach

Biography - Nathalie Rodach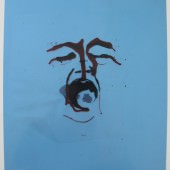 Nathalie Rodach lives and works in Geneva.
Her process is carried out through personal questioning, touching upon her own personal history and metaphysical research, which are at the heart of the philosophic message she expresses through her creation.
Since 2003, Nathalie Rodach has dedicated herself completely to her artistic practice. Since 2008, Rodach deploys, from the series of the matrix of Family Trees, sculptures made of branches assembled and reassembled - a body of work which is ever-changing.
Her works have been part of numerous solo and collective exhibitions in Tel Aviv, Geneva, New York, Brooklyn, Calvados and Paris.
In 2014, Nathalie Rodach was the artist in residence at the Invisible Dog Art Center in Brooklyn and in 2009 and 2010 at Samuth Sakkhon (Thaïland).