Perry Bard

Biography - Perry Bard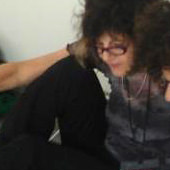 Perry Bard was born in Quebec City.
Her work is fueled by observations of her immediate environment and their interpretations in a global context. The space between fact and fiction, the role of technology, the control of media, its proliferation in public space, play out in installations and videos that she has presented internationally: at Documentary Fortnight, MoMA NY, Toronto, Moscow, Rotterdam, IDFA International Film Festivals, and at museums including Guggenheim Museum NY and Berlin, P.S.1 Museum, Reina Sofia Museum Madrid, Museum of Contemporary Art Zagreb and Bucharest. Her work has been included in Sao Paolo, Montreal and Cartagena Biennials.
Her internet and public space project Man With A Movie Camera: The Global Remake dziga.perrybard.net invites participation in the mashup of Vertov's1929 film belonging to world cultural history. The award winning work has been has been named by Google one of the 106 most creative uses of the internet, won an award at the Guggenheim Museum's Youtube Play Biennial, won Honorary Mention at Ars Electronica '08, Liedts-Meesen Technological Award 2010, Share 2011,Transitio_MX 2012, was nominated at Transmediale '09, File '09. It has been installed in over 50 venues to date including museums and galleries and screened on public LED displays in Manchester, Leeds, Norwich and Sheffield UK, Federation Square Melbourne Australia, Parer Square Brisbane, e4c Seattle U.S.A.
Her performance and video installation Hotel, commissioned for the First International Biennial of Cartagena Colombia (2014) focuses on the standardized gestures of hotel workers whose trained movements reflect an acknowledged social order, one where the worker is always at your service. Her current project NYDKGZ is a participatory road movie for mobile platforms that originates in New York at the intersection of DaKar and GuangZhou. Using the silk road as a metaphor it explores economics and mobility through the communication devices that govern our lives. Bard also curates and writes for Afterimage Journal of Media Arts and Cultural Criticism. 
Perry Bard is represented by Joyce Yahouda Gallery.