Corine Lemieux

Biography - Corine Lemieux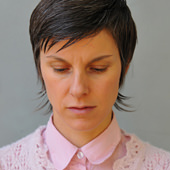 Born in Montreal in 1973, Corine Lemieux is a multidisciplinary artist living and working in her home town. She holds a BFA from the Université du Québec à Montréal.
Lemieux's artistic practice focuses on notions of transformation, interaction and exchange. She explores the composite, moving characters of identity and the importance of human connections. Her sculptures, drawings and photographs invite the viewer to consider the perpetual transformations affecting materials and interpersonal relationships.
Corine Lemieux's work has been exhibited throughout Quebec, Canada and Italy, notably at Skol (Montreal, 1998), Clark Gallery (Montreal, 1999), l'Oeil de Poisson (Quebec City, 1999), l'Espace Virtuel (Chicoutimi, 2001), Gallery 101 (Ottawa, 2002), Optica (Montreal, 2003) and Joyce Yahouda Gallery (Montreal, 2006). In 2002, she participated in the Amériche exhibition presented in Milan, Italy, at La Fabbrica Del Vapore.
Her work is featured in such collections as the Musée national des beaux-arts du Québec.
Corine Lemieux is represented by Joyce Yahouda Gallery.