A Piece of Cake

A Piece of Cake
Curator: Joyce Yahouda
March 25 – April 23, 2023
Opening: Saturday, March 25th, 2-4 pm
CÉLINE B. LA TERREUR
A PIECE OF CAKE
Maison de la culture de Maisonneuve
March 25th - April 23rd 2023
> Between 1-5 PM
---
Since 2004, multidisciplinary feminist artist Céline B. La Terreur has addressed various social phenomena involving the female condition through installations that combine painting, performance, drawing, sculpture, photography, and video.
With A Piece of Cake, the artist invites us into a banquet room showcasing resplendent artifacts, paintings, and sculptures.
Standing in the centre of the room, an elegant wedding cake catches our attention. A sumptuous buffet of pastries slathered in frosting completes the feast.
It all looks so sophisticated and delectable. So romantic – the stuff of dreams!
But all is not as it seems at first glance. While walking around the sculptures, we begin to make some surprising discoveries.
It soon becomes apparent that vile clusters of hair, bones, and blood are incorporated into the sweets and finery. What had seemed so lovely at first is transformed into a heap of gruesome bloody objects – symbols of violence. The gold dust paintings each feature a single word, signalling a call for help: Violence, Agitation, Altercation, Abdication.
Without intending to diminish the domestic violence some men are subject to, through A Piece of Cake, Céline B. La Terreur highlights the fact that too often domestic violence against women constitutes a worrying widespread global condition. Violence forces too many women to live in terror and pain. Paralyzed with fear and unable to escape, they suffer daily trauma and live in latent terror, victims of assault that can sometimes lead to dreadful deaths.
Since the 19th century, women have often appropriated dominant and oppressive codes, as an attempt to denounce them.
Céline B. La Terreur appropriates femininity codes inherited from Romanticism, striving to protect the beautiful and sublime, while alluding to an intense aesthetic experience saturated with emotions like fear, horror, and terror.
Within the context of the found object in contemporary art (often a utilitarian object, manufactured or natural, that was not originally conceived for artistic ends but that has been reappropriated in an art context), the artist incorporates, among other elements, hair, dentures, rings, jewelry, and recycled fur into her cakes.
To build the structures of her cakes, the artist uses recycled materials, namely wood, plastic, and metal. She then applies numerous layers of acrylic paint with spectacular meticulousness.
Her resulting towering, tiered wedding cake looks surprisingly real.
Through satire, dark humour, and irreverence, this audacious and shocking mise-en-scène undermines the assertion that the institution of marriage symbolizes happiness.
Céline B. La Terreur's work belongs to the postmodern tradition in which the lines between art and high and low culture are blurred.
Aesthetic value is not the only measure of the installation's success, however. Successful art sparks reflection and debate.
And this is precisely what A Piece of Cake does.
— Joyce Yahouda, curator
*Presented by the CAM en tournée.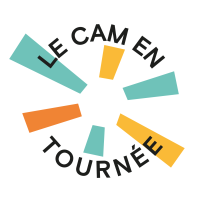 News
No news at the moment.