Nicolas Mavrikakis

Biography - Nicolas Mavrikakis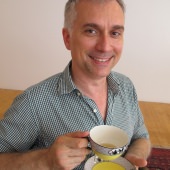 Nicolas Mavrikakis is an art critic. He has dealt severely with artists in the newspaper Voir Montréal since 1998. He has also written exhibition reviews and texts for numerous Canadian magazines, and has been a member of the editorial committees of ETC and Spirale. Since 2010, he is Assistant Director for Espace magazine.
As well, he curates exhibitions, among others, Entreprise collective (Espace Création Loto-Québec, 2011), the 25e Symposium d'art contemporain de Baie-Saint-Paul in 2007, and, in 2005, the exhibition How to Become an Artist.
In addition, he teaches art history and French literature, but has also taught the history of film, dance, the arts and communications. His favorite pastime is to assassinate artists' egos.