Diane Gougeon

Biography - Diane Gougeon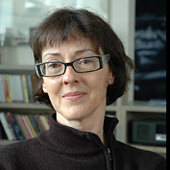 Diane Gougeon lives and works in her native city of Montreal. Her art installations and interventions tap into site and object to question the impact of technology and communications on our lives, as well as their effects on human beings.
Over the years, she has done interventions in both public and private spaces. In addition to the usual exhibit sites, her work has invested the space of abandoned gardens and public and government buildings. With À demi-mot in 1997 and Circulaire in 2005, she even entered the city space, using vehicles such as taxis, delivery trucks and private cars as support.
She has exhibited in Quebec, Canada and France, and created five public commissions.
From time to time, she also curates exhibits: Montréal tout-terrain (1984), Le bénéfice du doute (1992 and 1994), a collaboration between Optica in Montréal and the Centre St-Vincent de Herblay in France, and finally, Sur l'expérience de la ville (1997), another Optica production that was a finalist for the Conseil des arts de Montréal's grand prize in 1997.
A bilingual publication on her work has been published in 2009. Directed by art historian Marie Fraser, the book traces and puts into perspective the works that Diane Gougeon has created for the last 15 years, since she presented her installation Reach out and touch someone (1994-1995) in Paris and Montreal.