David Elliott

Biography - David Elliott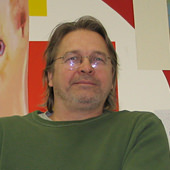 David Elliott was born in 1953 in Niagara-on-the-Lake, Ontario.  He has lived and worked in Montreal since 1977.
One of the principal Canadian artists associated with the late seventies, early eighties return to figuration, Elliott has exhibited his paintings both nationally and internationally for over 35 years. In 1993, the Museo de Arte Moderno in Mexico City organized David Elliott: Pintura, a retrospective of his work.  In Canada, he showed Instant Karma at the Saidye Bronfman Center for the Arts (2002) and La Chambre enchantée at the Musée Regional de Rimouski (2012).
His large-scale canvases are included in the collections of the Montreal Museum of Fine Arts, the Musée d'art contemporain de Montréal, the Musée national des beaux-arts du Québec and the Nova Scotia Museum.
In 2010, David Elliott was awarded a residency at the Conseil des arts et des lettres du Québec's studio in New-York. In 2012, he obtained the residency from Canada Council in Paris' studio.
David Elliott is represented by Joyce Yahouda Gallery in Montreal, where he has had solo exhibitions in 2004, 2007, 2009, and in 2013.