Raymonde April

Biography - Raymonde April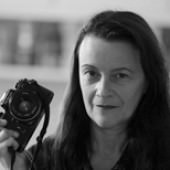 Born in Moncton, New Brunswick, Raymonde April studied at the art college in Rivière-du-Loup, then at the École des arts visuels of the Université Laval, in Québec. A photographer since the 1970s, the artist touches on various forms of art: portraits, landscapes, travelogues, diaries and photographs of still life. She takes her photographs with an awareness of being in a [live] tableau.
Raymonde April has participated in numerous collective exhibits in Canada and in Europe, including: "Visual Facts: Photography and Video by Eight Artists in Canada" held in Glasgow, Sheffield and London (1985); "Montréal Art Contemporain", ELAC, held in Lyon (1985); "The Impossible Self", held at the Winnipeg Art Gallery (1988); "Montréal 89: Aspects de la photographie québécoise", held in Montréal and "Art Junction International" held in Nice, France (1989).
Her photographs are exhibited regularly in Canada and in Europe. Her works are in the private and public collections of various cultural institutions such as the Montreal Museum of Contemporary Art, the Musée du Québec, the Montreal Museum of Fine Arts, the Leonard and Bina Ellen Art Gallery at Concordia University, the Canadian Museum of Contemporary Photography in Ottawa, the Canada Council and the Bibliothèque nationale de France in Paris.
In addition to her photography, Raymonde April has a career in teaching. She has taught at the Department of Visual Arts at the University of Ottawa and currently teaches photography in the Studio Arts Department at Concordia University in Montréal. She is also one of the founders of La Chambre Blanche, a centre for artists in Québec.