Annie Briard

Biography - Annie Briard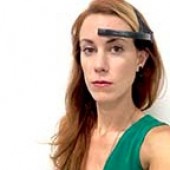 Annie Briard is a Vancouver-based artist from Montreal challenging visual perception through photography, installation and moving image.
Briard has exhibited in solo shows across Canada including at Joyce Yahouda Gallery (Montreal), Back Gallery Project (Vancouver), VIVO media art centre (Vancouver), Center 3 (Hamilton) and La maison des artistes (Winnipeg). Since 2009, her work has been presented in group exhibitions nationally and worldwide, including a 10-city tour of China for Canadian Cameras at Work in 2011, as well as festivals and screenings in New York, Rio, Madrid, Paris and Basel. She has participated in events such as Montreal's Nuit Blanche and Art Souterrain, World Event Young Artists in England, White Rabbit Arts in Nova Scotia and Capture Photography Festival in Vancouver. In 2012, she completed a residency at the Banff Centre, and pursues a residency in Spain in 2016.
Annie Briard holds a BFA in studio art from Concordia University (2008) and an MAA in media arts from Emily Carr University (2013), where she currently teaches. Her work is represented by Joyce Yahouda Gallery.
Press
Publications
Exhibitions at the gallery
Extra muros exhibitions
News