Paul Kunigis, Humanisme et cabaret

Diego Piccini da Todi
Paul Kunigis, Humanisme et cabaret
Photography, drawing, painting
December 10 – 19, 2009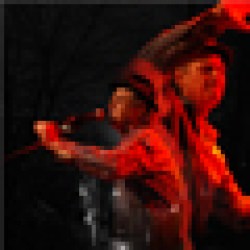 Diego Piccini da Todi - Paul Kunigis, Humanism and Cabaret
Paul Kunigis cannot fully be defined as a singer-songwriter and composer. He is in fact a whole "cabaret"… A cabaret where we can consume our sorrows, drink the elixir of selflessness, where our fluid impulses are diluted on the tables and in a dense "after midnight" fog. Behind this intimate curtain, mystical individuals symbolizing all the pathos of our existence, gather to create an unexpected audience.
Upon observing the whole scene and Paul himself, a peer and a friend, Diego Piccini da Todi ponders a humanistic question: how does Paul proceed to rise from the pathetic and often sordid routine of mundane life and find the vital inspiration allowing him to celebrate the simple joys of coming together to savour the simple things in life?
This cabaret, depicted in Diego's work, is forever carried on Paul's shoulders; he regularly holds it up and sometimes trails it. It is a whole scene of both antic and romantic theatre, even reaching the mythological. Diego reveals such characters as the peaceful and angry divinities of the Bardo Thödol, who through their charisma and frankness, incarnate the raw truth of our emotions and our feverish hopes.
This cabaret is the main stage of the circus of life, exposing the poor and fragile creatures we truly are. It is there that the intrigues of our lives are unravelled, intrigues that Paul also relates to in his songs… his melodies, such as an eternal troubadour confronted with the constant precariousness of existence. He squeezes his heart and then offers us the new wine of Humanism…
Diego is positioned as a privileged witness testifying that humanity remains the better way of thinking.
Short Biography
Diego Piccini da Todi, 38, is a French Italian artist working in visual arts and graphic design. A Buddhist and an ecologist, he is based in Montreal, Canada. He holds Bachelor's, Master's and D.E.A. degrees in Arts and Letters, with a special focus on contemporary history.
During his D.E.A, he worked as a graphic designer and a web/multimedia developer by creating his own firm. His goal was to use all the rising potential of a new communication technology, the Internet, to structure and web cast a specific or more general knowledge. At this point, much more than written word and multimedia, image entered his process as obvious and mighty broadcasting vectors of powerful structured information. He then became an international Lead designer, and opened a gallery in Montreal's Belgo building, which gave him the opportunity to evolve his practice in drawing, painting and photography. He also continually deepens his spiritual study of Dharma, following Longchempa's universal teachings. The cornerstone of his artistic approach is his reliance on imagery sourced exclusively from his memory and imagination.
News
No news at the moment.