The Whole World Has Gone Joyously Mad

The Whole World Has Gone Joyously Mad
June 8 – July 16, 2016
Opening: 2016-06-08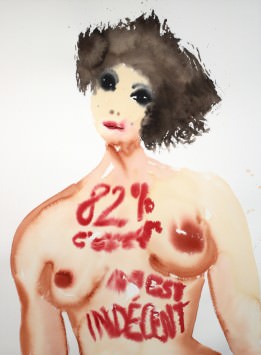 82% C'est ça qui est indécent
2016
Watercolor on paper
76 X 56 cm /
30 x 22 in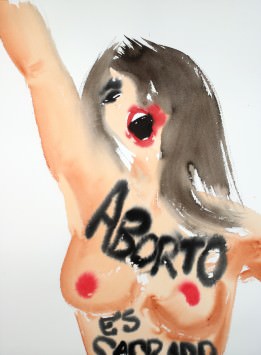 Aborto es sagrado
2016
Watercolor on paper
76 X 56 cm /
30 x 22 in
Amina (Tyler) Sboui No. 1
2016
Warercolor on paper
76 X 56 cm /
30 x 22 in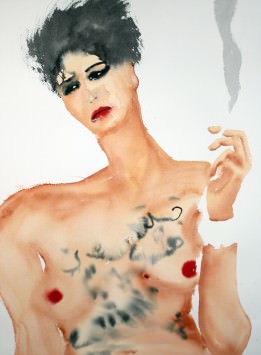 Amina (Tyler) Sboui No.2
2016
Watercolor on paper
76 X 56 cm /
30 x 22 in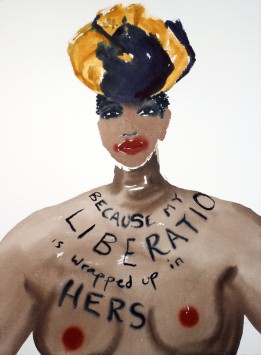 Because my liberation is wrapped up in hers
2016
Watercolor on paper
76 X 56 cm /
30 x 22 in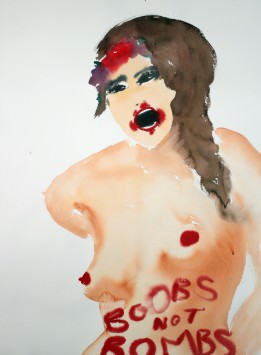 Boobs Not Bombs
2016
Watercolor on paper
76 X 56 cm /
30 x 22 in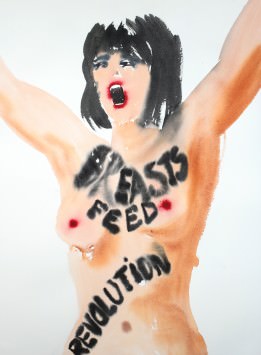 Breasts feed revolution
2016
Watercolor on paper
76 X 56 cm /
30 x 22 in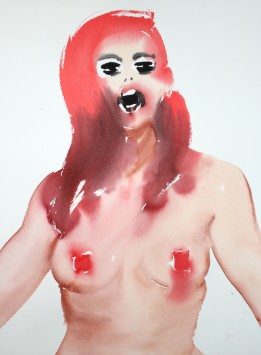 Carré Rouge No.1
2016
Watercolor on paper
76 X 56 cm /
30 x 22 in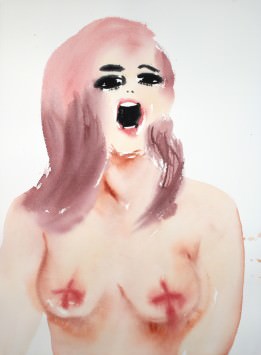 Carré Rouge No.2
2016
Watercolor on paper
76 X 56 cm /
30 x 22 in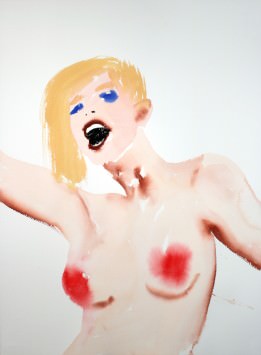 Carré Rouge No.3
2016
Watercolor on paper
76 X 56 cm /
30 x 22 in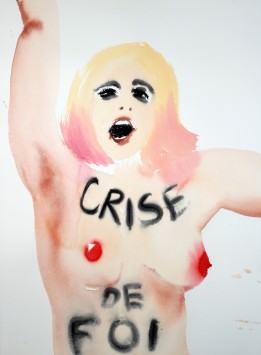 Crise de Foi
2016
Watercolor on paper
76 X 56 cm /
30 x 22 in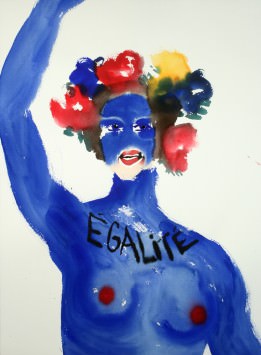 Égalité
2016
Watercolor on paper
76 X 56 cm /
30 x 22 in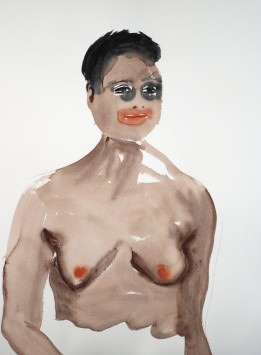 Ekiti Eleder No.1
2016
Watercolor on paper
76 X 56 cm /
30 x 22 in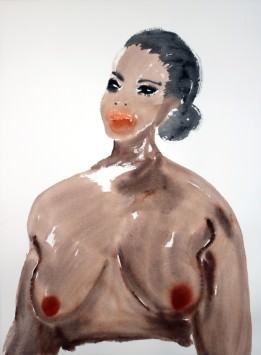 Ekiti Eleder No.2
2016
Watercolor on paper
76 X 56 cm /
30 X 22 in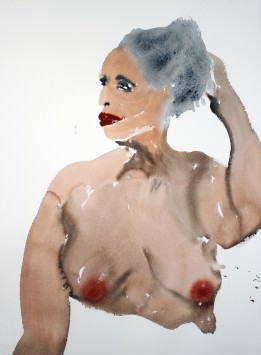 Ekiti Eleder No.3
2016
Watercolor on paper
76 X 56 cm /
30 x 22 in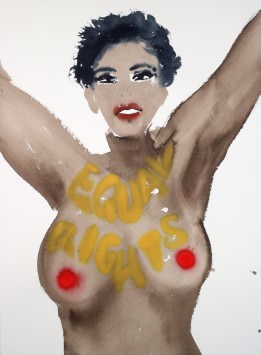 Equal Rights
2016
Watercolor on paper
76 X 56 cm /
30 x 22 in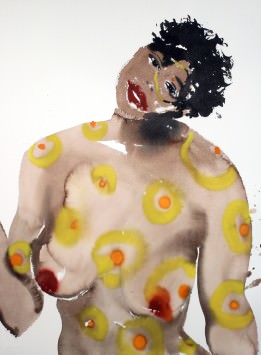 Free the nipple
2016
Watercolor on paper
76 X 56 cm /
30 x 22 in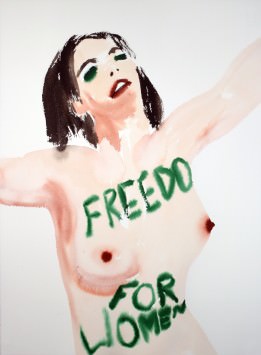 Freedom for women
2016
Watercolor on paper
76 X 56 cm /
30 x 22 in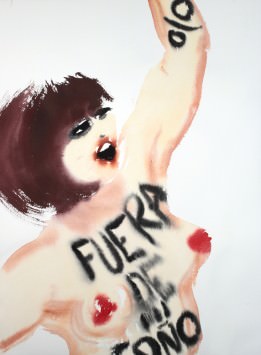 Fuera de mi cono
2016
Watercolor on paper
76 X 56 cm /
30 x 22 in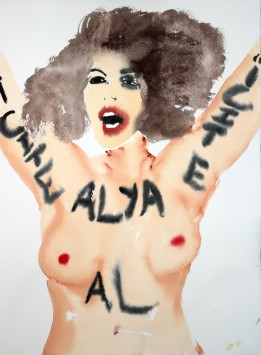 Laïcité
2016
Watercolor on paper
76 X 56 cm /
30 x 22 in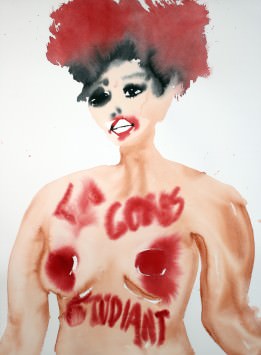 Le corps étudiant (Contre la hausse)
2016
Watercolor on paper
76 X 56 cm /
30 x 22 in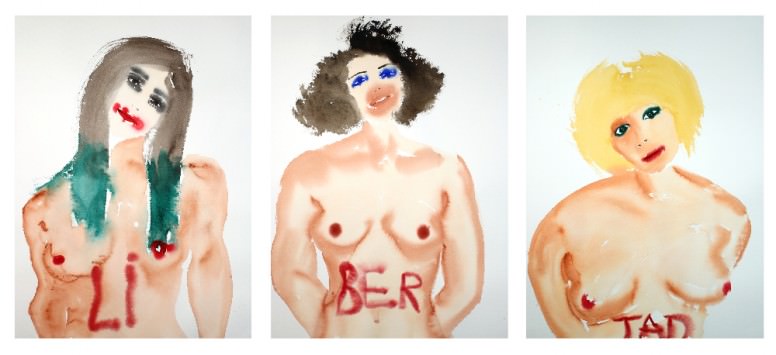 Libertad (triptyque)
2016
Watercolor on paper
76 X 56 cm /
30 x 22 in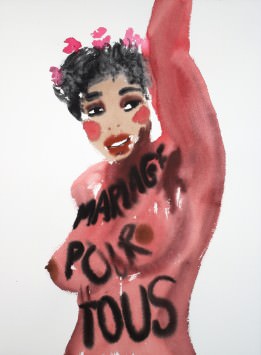 Mariage pour tous
2016
Watercolor on paper
76 X 56 cm /
30 x 22 in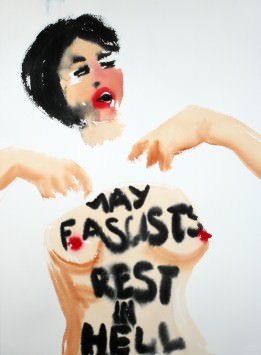 May Fascism Rest in Hell
2016
Watercolor on paper
76 X 56 cm /
30 x 22 in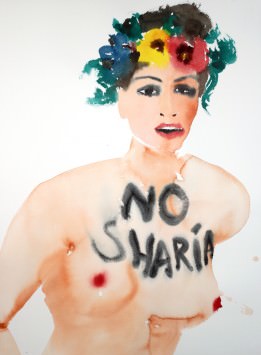 No Sharia
2016
Watercolor on paper
76 X 56 cm /
30 x 22 in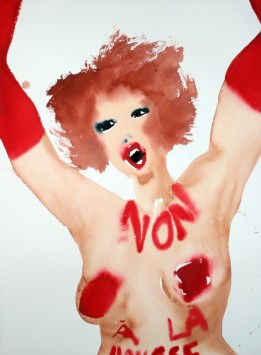 Non à la hausse
2016
Watercolor on paper
76 X 56 cm /
30 x 22 in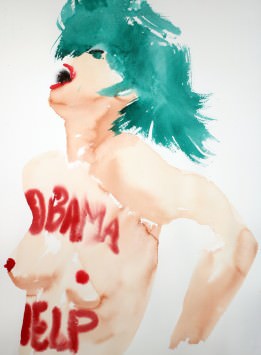 Obama Help
2016
Watercolor on paper
76 X 56 cm /
30 x 22 in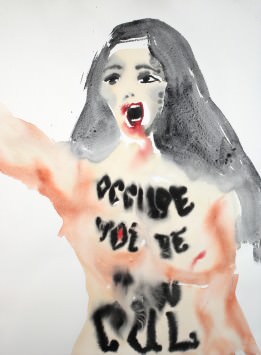 Occupe-toi de ton cul
2016
Watercolor on paper
76 X 56 cm /
30 x 22 in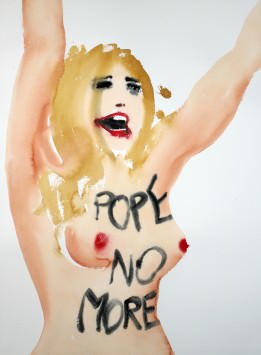 Pope no more
2016
Watercolor on paper
76 X 56 cm /
30 x 22 in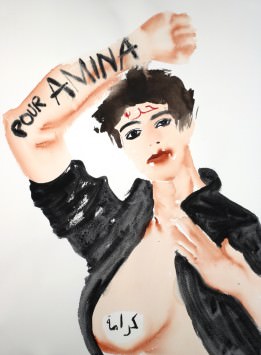 Pour Amina
2016
Watercolor on paper
76 X 56 cm /
30 x 22 in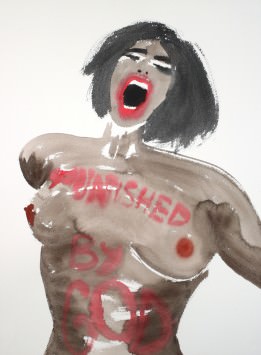 Punnished by God
2016
Watercolor on paper
76 X 56 cm /
30 x 22 in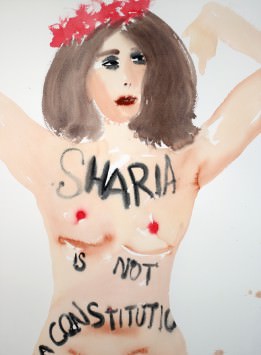 Sharia is not a constitution
2016
Watercolor on paper
76 X 56 cm /
30 x 22 in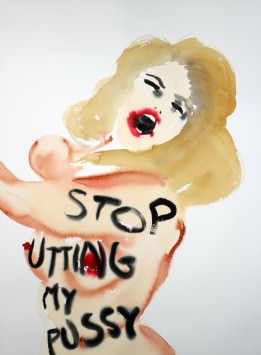 Stop cutting my pussy
2016
Watercolor on paper
76 X 56 cm /
30 x 22 in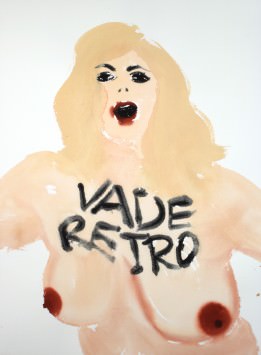 Vade Retro
2016
Watercolor on paper
76 X 56 cm /
30 x 22 in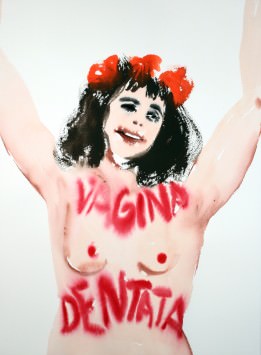 Vagina Dentata
2016
Watercolor on paper
76 X 56 cm /
30 x 22 in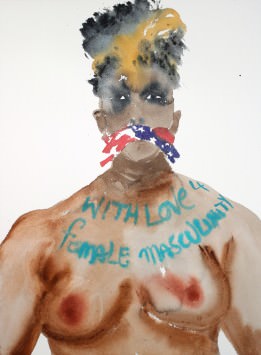 With love for
2016
Watercolor on paper
76 X 56 cm /
30 x 22 in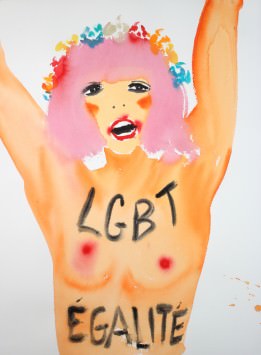 Lgbt
2016
Watercolor on paper
76 X 56 cm /
30 x 22 in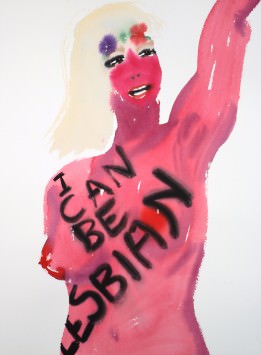 I can be lesbian
2016
Watercolor on paper
76 X 56 cm /
30 x 22 in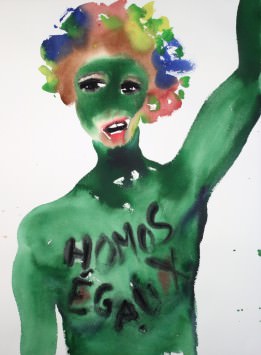 Homos Égaux
2016
Watercolor on paper
76 X 56 cm /
30 x 22 in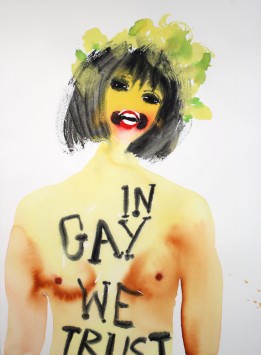 In Gay we trust
2016
Watercolor on paper
76 X 56 cm /
30 x 22 in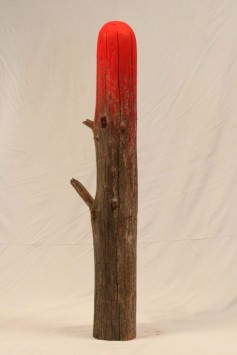 Lingam n˚1
2016
Wood and egg tempera
149 X 19 X 19 cm /
58.7 X 7.5 X 7.5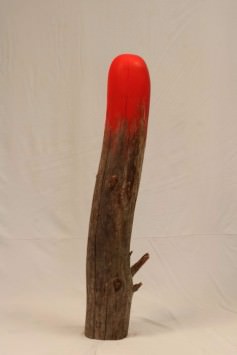 Lingam n˚2
2016
Wood and egg tempera
134.5 X 19 X 19 cm /
53 X 7.5 X 7.5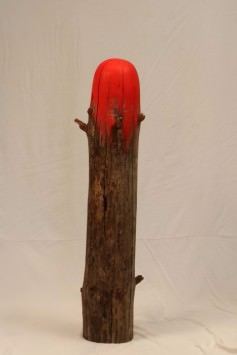 Lingam n˚3
2016
Wood and egg tempera
133.5 X 23 X 23cm /
52.6 X 9.1 X 9.1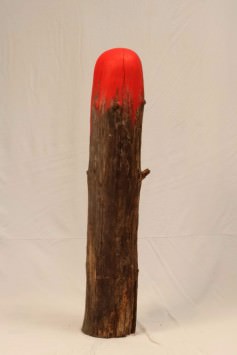 Lingam n˚4
2016
Wood and egg tempera
137 X 23 X 23cm /
53.9 X 9.1 X 9.1
Composed of watercolors and sculptures, The Whole World Has Gone Joyously Mad is an installation by Nadine Faraj, inspired by female activists who use their nudity as a means to protest. According to the artist, this is a way for these women to draw attention to the cause they are fighting for. However it also makes them more vulnerable to the possible reactions of the public, often already hostile to their presence and their tactics. Description of works
Composed of watercolors and sculptures, The Whole World Has Gone Joyously Mad is an installation by Nadine Faraj, inspired by female activists who use their nudity as a means to protest. According to the artist, this is a way for these women to draw attention to the cause they are fighting for. However it also makes them more vulnerable to the possible reactions of the public, often already hostile to their presence and their tactics.
In May 2012, some Montreal students protested, almost completely nude, against rising tuition fees proposed by the government. Protesting nude was, for them, the ideal way to demand in return an equal transparency from political leaders.
Faraj's Installation The Whole World Has Gone Joyously Mad includes portraits of some of the students present during this activist movement in 2012, and those of female activists from all over the world.
The blurred appearance of Nadine Faraj's artworks is the result of a specific treatment of the pigment, obtained by controlling the moisture content of the paper. It results in a universe composed of slightly distorted and potentially disturbing images, always reflective of our own fragility.
A series of sculptures are presented in parallel with the artist's watercolors: the tree trunks, because of their vertical posture, are reminiscent of the protestors and are symbolic of the phallic organ. According to Faraj, the tree trunks complement the portraits of the female protestors, by creating harmony between the artworks.
Press release
News
No news at the moment.