Confluence

Confluence
Curator: Perte de Signal
May 3 – June 2, 2012
Opening: Saturday, May 5, 2012, 4-6 p.m
Jason Arsenault, Myriam Bessette, Robin Dupuis, François Quévillon, Nelly-Ève Rajotte, & Pavitra Wickramasinghe
PRESENTED IN COLLABORATION WITH PERTE DE SIGNAL, ON THE OCCASION OF THE INTERNATIONAL DIGITAL ARTS BIENNIAL
CONFLUENCE is a group exhibition that marks 15 years of digital creation at Perte de Signal. The video-based works it presents were produced for the occasion by six of the art centre's member artists: Jason Arsenault, Myriam Bessette, Robin Dupuis, François Quévillon, Nelly-Ève Rajotte, and Pavitra Wickramasinghe.
Each in its way, these works invest the characteristic spatial plasticity of digital video, a space in which, once edited and "processed," the flows of moving images and of audio modulations wind about, interact, and tug at one another. The video support serves as a binder to highlight a variety of video practices, from 3D modeling to the static capture of shot sequences, using concrete or synthesized sound, as the case may be.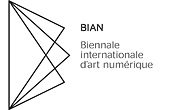 News
No news at the moment.